Education is one of the most important things we can ALL do to help make a difference in the lives of street dogs. We strive to spread awareness of the issues facing street dogs and the importance of the humane treatment of animals in all communities we touch.
Here are just a few ways in which we're doing this:
Murals
.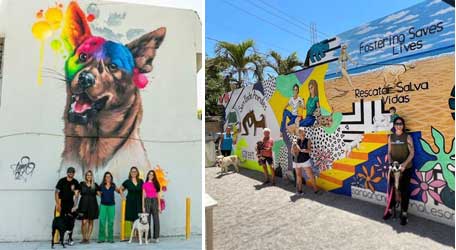 We work with our rescue partners to sponsor murals around their communities depicting dogs as pets, being loved, and as part of the family. These subtle yet powerful images are making a real difference in the culture surrounding pet ownership in these communities.
If you see any of our murals while traveling, please take a picture and share with us or post on social media and tag Street Dog Hero! We love to see our work in action.
International Clinic Education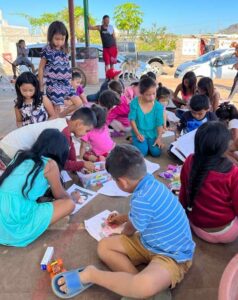 While we provide free spay & neuter clinics internationally, we also concentrate on education. When we're not caring for the local street dogs, we visit schools and talk about basic dog care and grooming – brushing, bathing, feeding, etc. – to encourage children to help their local street dogs become more welcomed into homes and by the people in the community. At our clinics we also talk to pet owners about the importance of wellness exams, vaccines and sterilization and give out coloring books and stickers featuring dogs as pets to the kids.
We work with our rescue partners in those areas and come up with ways to help reach their community in the most effective way and support them however we can from afar and when we aren't there in person.
Bacalar, MX Clinic Rescue Partner Tribute: "I was impressed to see the awesome care in recovery from SDH. In the local campaigns this part is completely missing and I learned a lot! … My partner told me that all the local people were impressed seeing all this attention, love and care you gave the animals. Seeing them collaborating in revitalization, moving them, touching them, talking to them was amazing. Some of them never touch their animals. I loooove it! It's such an eye opening moment for them seeing you treating their animals they don't care of like this…. it was kind of like watching a movie for them."
Our Youth - The Next Generation of Dog Lovers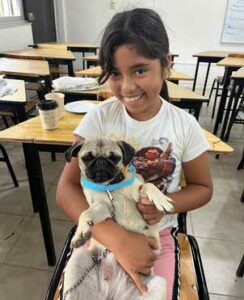 We provide educational camps and a wide variety of volunteer opportunities to kids ages 6 and up so that they learn from a young age to love and advocate for animals. We also offer leadership club opportunities for High-School aged kids so that they can put their love for animals into action and become the animal welfare professionals of the future.
We are working to build a community of youth that are knowledgeable, passionate, and driven to make the world a better place for dogs and communities in need.