Welcoming home your new family member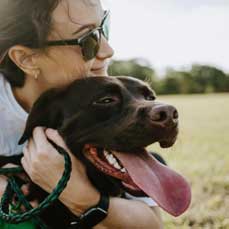 We set up our dogs and their families for success at Street Dog Hero!
We've created a one-stop shop to find nearly anything you need to help your dog's transition into their new home go as smoothly as possible including articles, videos, and more.
Home Introductions
Your home is a whole new world for your dog filled with tons of new experiences. Be patient with them as they navigate this process and check out these videos and articles below to help you make it as stress-free for them as possible!
Weather Safety
Severe weather of any type can be harmful to our furry family members. Here's what to look out for:
Rehoming Your Dog
We know that sometimes it doesn't work out and the best option is rehoming your dog. We offer Resources to help families work through some of the typical dog ownership hurdles but if you've determined that it is best for you and your dog to rehome, we are here to help. Because we are a foster-based rescue, our rehoming services are limited but if you reach out to our team through our Contact page we will do everything we can to help you and your dog.